The Great Catch-Up/Purge Edition
After months of disappearance, I'm back and ready to throw everything out
I dove into a pile of work and by the time I emerged, it was a whole new decade. What even happened in November and December of 2019? When I hit "send" on my last newsletter, I had no idea that I was on the brink of the feast portion of the freelance cycle. Reader, all I really did was work. Draft deadlines for the Logan Square book project loomed, I set into a nice rhythmn with my other clients, and a friend looped me into do a small project for him. Some of my pitches were accepted and then the bookstore I worked at when I was laid off reached out to say they needed extra hands. Since no one can get shit done like a busy person, I just kept piling on more and more tasks. It made for a weird holiday season, where everyone around me was settling in with hot toddys and a roster of Hallmark Christmas Movies while I huddled around the bright light of my laptop. This sounds super depressing but it had that same strange exhiliration of Finals Week (this is how you know I'm a total nerd.) Once you survive it, you truly feel you can get anything done.
Afraid of burning out, I took the first week fo 2020 off. My initial plan was to spend the days on art dates, touring food halls, and catching up with friends. LIES, ALL LIES. Once I eliminated every drop of alcohol out of my post-New Year's Eve-system, I decided to tackle my laundry basket and ended up in a four-day purging spree that I have yet to finish. Frankly, I have no idea how people who live in the same home for twenty years can stand STUFF. All my moving around means my objets are super well-curated to begin with and I go through mini purges at least once a year and yet I still found myself tossing so much junk away. Expired spices. Sentimental gifts that no longer inspire any sentiment. Handouts that I never look at. Kitchen appliances that I had forgotten about. A dress I literally bought this summer. It's bonkers. It's grueling too but with every trashbag I felt like a new path to my life was opening.
I know this is the time to talk about New Year's Resolutions but I don't know if I have any, at least not in the traditional sense. What I do have are goals. My main ones are bringing my Chicago-era to a close, in some fashion or the other, and polishing my novel so it's ready for submission. Those are literally my guiding lights and they're probably enough but me, ever the anxious overachiever who wants to follow a syllabus, feels like that's not enough. So what did I do? I turned to listmaking. Here, unfiltered, with some brief notes, are the lists I've made so far. Why yes, my mind is a terrifying place.
What I'm Looking Forward to Already:
Ragdale Residency in December

Spending months in Austin and Lima

Wine & Spirit Education Trust wine class, level 2

Voting for president for the first time as a US citizen (not that I have much hope for the outcome but one has to keep fighting)

Polishing my novel

Launch of the Logan Square book

Live Lit class

Mini retreat with my YA novel writing group

My monthly meetings with the WAGS (writing accountability group for freelance stuff—now with a 4th member!)
What I Already Said I Wanted in 2020:
Make 75k per year, around $6250 per month (I heard Oprah once quote a study that indicated this was the happiness threshold—meaning your feelings of contenment increase with every dollar you make up to 75k, after which you plateau. More money after that won't make you feel better about your life. This has been my goal FOREVER and I've never made it, not even in full-time jobs.)

Break into a print magazine or newspaper

Get an agent
Things I Haven't Said I Wanted But Actually Do:
Get deeper into tarot

Go out on dates

More consistency in my social life

A beautiful crash pad

Less waste

More political activism

Getting to try out all the food hall vendors in Chicago

More selling, donating, repurposing

Using up all my kitchen items

Less mindless scrolling on social media
Things I've Noticed Make Me Feel Good
More fish and veggies

More water

Less cheese

Meditation

Artsy dates and cultural events

Being with friends

Barre (SO WEIRD)

Walking while listening to songs

Cooking slowly and patiently

Protesting, volunteering, teaching
Things I've Noticed Make Me More Disciplined
Working on my fiction projects the first 45 minutes of they day

15 minute breaks for every 45 minutes of work (I like the 45-minute chunks)

Camping out at cafés when I have deadlines

Focusing on one assignment before moving onto the next

Deadlines

Sleep

Emotionally detaching from my writing so I have constant output instead of constant self-criticism

Keeping track of my time
Somehow, within these bullet points, I hope to discover the structure of my year.
---
Homework
Purge something out of your life. It could be that messy room in your home, a project that's dragging, or a relationship that doesn't work. SERIOUSLY, PURGE THE RELATIONSHIP THAT DOESN'T WORK. If you're like, "But Ines, I have a heart and emotions and can't possibly bring myself to toss shit out of my life like you, how do I go about putting something to the curb?" Glad you asked! Anything that brings you negative feelings should be purged. I'm like the anti-kondo for that reason. I believe anger, boredom, dread can way more motivating than joy. If there's something you're constantly avoiding in your purview—a drawer, a task, a topic—it may be time to release it into the ether.
---
State of My Wallet
I may have mentioned this before but last time I saw my Tía Lili, the serial entrepreneur in my family, she jokingly said that I would start making money once I devoted all my waking hours to my business. SHE WAS RIGHT. 2019 ended on a super financial high note but, remember, all I really did was work.
November Invoiced: $4,397.50
November Received: $3,787.50
November was the first month of the year that I invoiced enough to cover all my fixed and non-fixed expenses. It was a super encouraging goal to meet.
December Invoiced: $6,409.20
December Received: $7,584.20
YOOOOOOOO LOOOK AT THOS NUMBERS. I was already riding high from November's big achievement and then December said "hold my beer." This was the first month of my freelancing life where I received enough money to cover all my fixed and non-fixed expenses, taxes and have a substantial amount leftover. No wonder I got so drunk on New Year's.
Still owed: $2,100
But I'm not giving up.
Total Freelance Income in 2019: $27, 917.85
Suffice to say I made the bulk of that in Q4, when I decided to actually take a long hard look at my finances and give myself a stern talking to.
---
2020 Progress Report
I can't talk about this year without talking about last year, wherein I finished the draft of my damn novel! *Cue "Fireworks" by Katy Perry* As all the wise writers have recommended, I'm letting it rest for a month before I begin the revision process. Prepare for many, many, many angsty thoughts on editing. I have a few leads for other corporate gigs this week and I'm already behind on pitching but I'm chalking that up to the natural sluggishness of the first weeks of January.
---
Tiny List of Small Victories
---
Links That Made Me Happy
A lot of the links I enjoyed these past few months perished in the Great Purge of 2020. Digital detox is also important for your health. Nevertheless, here are a few that tickled me pink:
The revision process is freaking me out, so I'm doing my best to prepare before I embark on the slashing and burning of my 380-something pages. I'm hoping this editing checklist will be helpful and my friend Julie recommended Katherine Locke's blog posts on the subject.

Carol Tice puts out an annual report on freelance writing rates, which I have found invaluable when it comes time to figure out what my own rates are. There are a few heartening conclusions like the fact that most people are no longer taking shit pay for blog posts (at the very least $50) and that hourly rates are rising. It also drove home the fact that I really, really, really need a website.

You know I love a good scam story and this one on Faith Hope Consolo means that decade of scams isn't over. This is the rare one—by all accounts, she was an excellent real estate agent, but she did everything to hide her working-class roots and may have never really left them behind. In other words, the victim may have been herself. DEEP.
---
Wherein I recommend a bunch of stuff, with zero justification.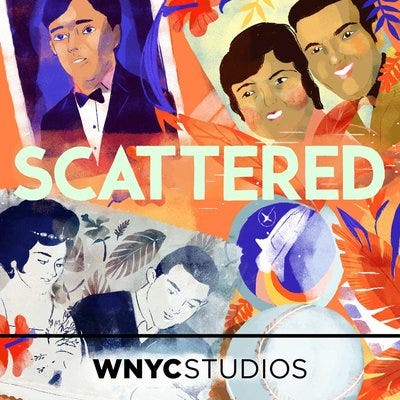 "Gullible Fool'" by La Roux
Still being involved in the primary even though your favorite bowed out because to excuse yourself from the process is the epitome of privileged tomfoolery and I honestly don't think the world can take four more years of the heaping pile of fascist turd we have in the White House.

Going to smaller museums with excellent exhibits.

ines.bellina

One of my favorite exhibits of the year was

@nublockmuseum

's focus on pop art in Latin America during the 60s & 70s. I'm itching to go back and see what hell is going on there without depending on the filtered machine of globalized markets. (This is the most Latin American thing I've said this decade.)

Advocating for mayo at all times.
ilovesaltado
PERUVIAN TRIPLE: 1️⃣ Spread mayo on a slice of bread. NOT FANCY, CRUSTY BREAD. You want regular grocery store bread. 2️⃣ Mash some avocado, season with lime juice, salt and pepper and put it on top of the mayo. I prefer the massive avocados found in Lima but we don't seem to export those so whatever you get at your neighborhood bodega will do. 3️⃣ Slice a hard-boiled egg and put it on top of the avocado mash. Put another slice of bread on top. Smear more mayo. 4️⃣ Add some tomato slices on top of the bread. Season with salt and pepper. 5️⃣ Top with the last slice of bread. If you're wondering "hmm, should I add more mayo?" the answer is ALWAYS yes. Unless you hate mayo, in which case I can't help you. Happy Saturday! ETA: NOT HERE FOR YOUR MAYO HATRED 🤣🤣🤣 YOU'RE ALL EATING MORE OF IT THAN YOU KNOW *
*
#triple
#tripleperuano
#peruviantriple
#peruvianfood
#peruviansandwich
#sandwich
#sandwichesofinstagram
#sandwichideas
#moremayo
The Charlie Report
ines.bellina
Bulldog sun salutations for a prosperous, wonderful 2020. May this decade be as bountiful as Charlie's chunks, as loving as his heart, and as powerful as the nuclear farts he lets rip with complete self-acceptance.
I am a writer looking for her next project. If you want to collaborate or think I can be of service, please feel free to contact me by replying to this email. You can also follow me on Twitter and Instagram.
If you like this newsletter:
If you stumbled upon it:

If you want to show me more than emotional support, feel free to contribute to my digital tip jar!
To err is human and I do a lot of it when I'm writing on the fly. My apologies for any typo or grammatical mistake.
---